OVERVIEW
---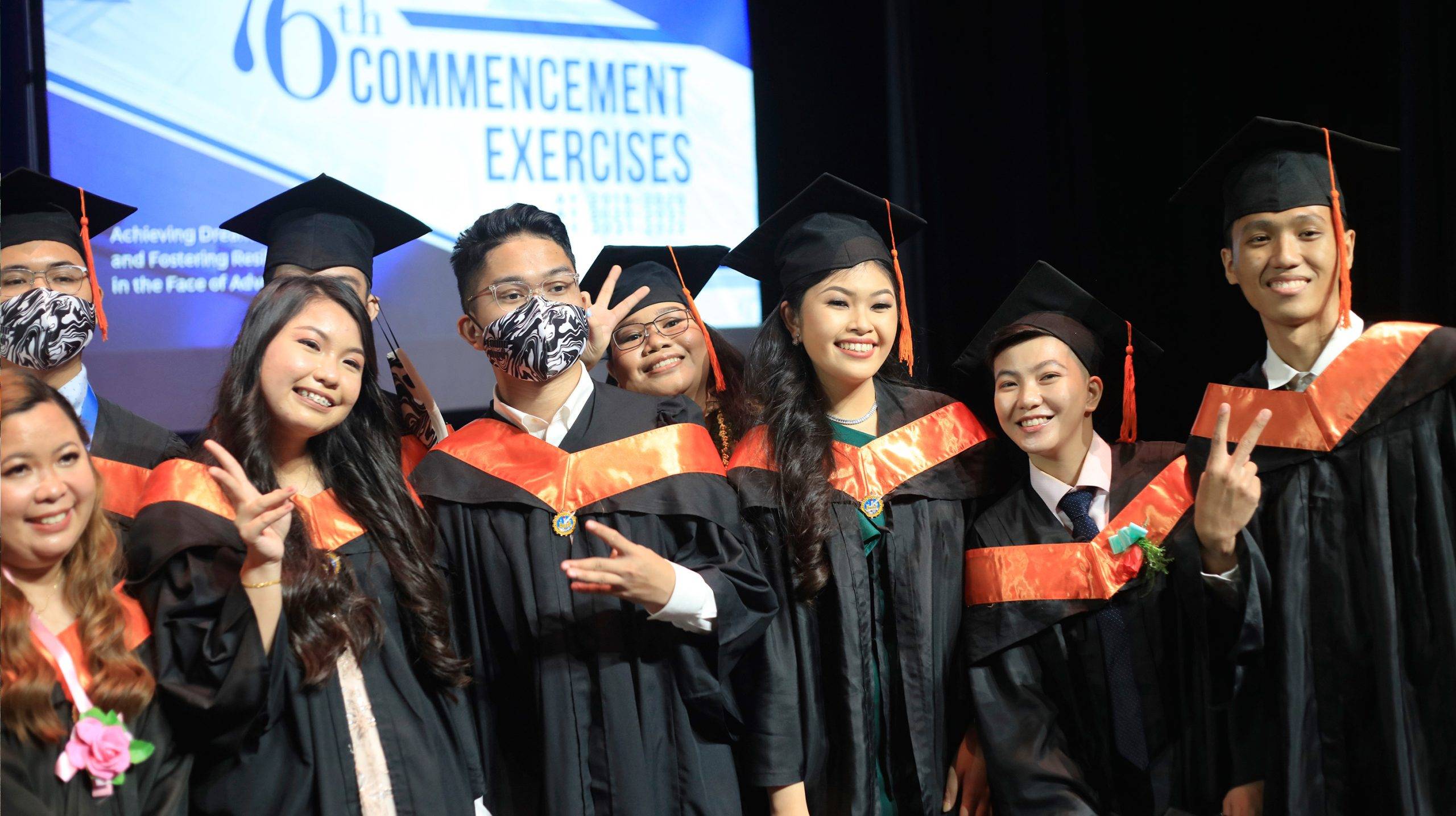 At FEATI University, we consider you our alumni as our greatest asset for you are proof that the University's mission is alive and successful in the lives of many. All FEATI alumni and friends are valuable members of our community. We encourage alumni to stay connected with classmates as well as with other alumni.
Please take a moment to update your information. In order for us to communicate directly with you, we need to have your most current contact information. In this age of fast-moving technology, we realize that electronic communication is our best and most efficient way of reaching out and engaging our alumni, so we hope you will keep us current on your preferred email address.
We have many exciting events every year that provide you with the opportunity to visit FEATI with fellow alumni and friends and/or become more involved with your alma mater.
We invite you to explore our site and learn how to stay connected. Reconnect with your alma mater, communicate with your classmates, and participate in alumni events and volunteer programs But most of all, be sure to return to campus as often as you can. You will be so glad that you did.
We look forward to hearing from and seeing you very soon!
ALUMNI AFFAIRS OFFICE
---
The Alumni Affairs Office is located at the 5th Floor of the Main Building. It comes with a primary goal in mind: to help FEATI alumni stay connected to the University and to each other. It also aims to develop programs and activities that sustain alumni interests and concerns for the University. And more importantly, it seeks to encourage maximum involvement and support of the alumni to FEATI University and its projects, events and programs that promote a spirit of fellowship and loyalty among the alumni, the students, faculty and staff, and the greater FEATI community.
The Alumni Affairs Office supports all FEATI alumni associations and alumni chapters here and abroad that are duly recognized by the University.
---
GET INVOLVED
---
Whether you are a recent graduate or you're recently reconnecting with our community, we encourage you to visit this page often to stay current on alumni news and join your friends and colleagues by getting involved in alumni events and activities.
Whether you're a student or an alumnus/a, there are a number of ways you can get involved with FEATI University!
If you are looking to engage with fellow alumni, connect with students, or volunteer within the greater FEATI community, there are many ways to get involved. Below are opportunities both on-and-off campus to reconnect and make a difference.
FEATI Celebrates
FEATI Celebrates is a venue for you to attend or sponsor university events based on the academic calendar. Events like Founders' Day, Foundation Day, University Day, University Christmas Party etc. At these events, there will be a deliberate attempt to drive attention to you as faithful, contributing, and committed alumni.
FEATI Commemorates
FEATI Commemorates is suggested to be a year-on-year campaign for the old alumni and fresh graduates/alumni to make their presence felt on a regular basis by participating in outreach programs, university grooming projects, etc. For University scholars, it is proposed that they be asked to pay it forward by sponsoring scholars of their own to support in FEATI. We realize that this will take some time to "cook" because after they graduate, they will first have to find jobs that will support their immediate family, build their career to support their own family, and only when they are fully established in their careers/ or perhaps own their own businesses will they be able to commit fully to support their own scholars. However, it is important that they have the moral imperative to do so when the time comes. You then can become role models for them to emulate when the time comes.
NOTABLE ALUMNI
---
FEATI Aviation Lifetime Achievement Awardee(s)
Engr. Charles D. Castro
Engr. Diosdado G. Luna
Ms. Virginia Flores-Rivera
Capt. Efren C. Rocamora
---
FEATI.Life Awardee(s)
---
FEATI Aviation Professional Awards
Engr. Roberto F. Castor
ALUMNI REGISTRATION
---
Welcome to the FEATI University Alumni Online Registration Platform
Join the FEATI alumni community effortlessly by registering online. Connect with fellow alumni, stay informed about the latest events, and access valuable resources to support your personal and professional growth.
Get Started Today and Reconnect with Your Alma Matter!
CONTACT
---
For further inquiries, comments and suggestions, we can be reached at the following contact information:
Address:
5th Floor, Bldg. 2 FEATI University, Helios St., Sta. Cruz, Manila
Contact Person:
Melanie P. Florentino
Head, Alumni Affairs
For Transcript of Records and other student document requests, please email:
Ma. Elena M.Yang
University Registrar
registrar@featiu.edu.ph
TESTIMONIALS
---
Samad T. Sultan | Testimonials
Engr. Jose A. Doromal | Testimonials
Ephraim Poe V. Javier | Testimonials
Engr. Jonathan F. del Rosario | Commencement Address
Aira Amarante | Testimonials
Dave Edward P. Jandusay | Testimonials
Capt. Antonio R. Amo | Testimonials
Antonio Facundo, Jr. | Testimonials
Melchor D. Lingat | Testimonials
Rufino Bautista | Testimonials
Orlando Dayoan | Testimonials
Moises R. Mendoza | Testimonials
Jonathan F. del Rosario | Testimonials
Gideon Trias | Testimonials
Eduardo F. Karganilla | Testimonials
Benjamin Ang | Testimonials
Lorna Alorro Binan-Aguilar | Testimonials
Engr. Joel B. Bajador | Testimonials
Juan Miguel P. Gonzales | Testimonials
James Russel Beruno | Testimonials
Capt. Romulo C. Harillas | Testimonials
Bienvenido Costes | Testimonials
Sharika, Hafsa Z. | Testimonials
Barairo, Patricia | Testimonials
Nevan, Joel Delos Reyes | Testimonial
Capt. Albert E. Bartilad - BS Marine Transportation (Batch 1985) | Testimonial
Joson, Rudith Elena C. | Testimonials
Cordova, Timotea A | Testimonials
Castro, Amado L. | Testimonials
Hallare, Daniel | Testimonials
Quiachon, Franklin | Testimonials
Jenilyn R. Salvador | Testimonials
Contact Us
For corporate and/or administrative concerns, you may contact the University Secretariat:
university.secretariat@featiu.edu.ph
(+63) 966 463 5882 to 85
(+63) 947 818 7715/7738/7755/7723
Local 438/439
For student record requests or inquiries:
registrar@featiu.edu.ph
(+63) 966 463 5882 to 85
(+63) 947 818 7715/7738/7755/7723
Local 400

For student application inquiries or concerns:
admissions@featiu.edu.ph
(+63) 966 463 5882 to 85
(+63) 947 818 7715/7738/7755/7723
Local 424/425
Landline numbers:
(02) 7618-4730
(02) 7618-4340
(02) 7618-5571
Jobs FEATI
Biology & Chemistry Teacher
Bachelor's degree in Education Major in General Science or Biology
LET Passer or at least one year of teaching experience
Computer Literate with the use of MS Office apps
Proficient in English
FEATI Futsal team wins on debut appearance at the 9th ISAA tourney
FEATI Chorale performs at the 5th ISAA Choral Festival
×