FEATIU 1963, PITHS Member, and TFAT co-founder featured in Munting Nayon,
an online magazine on News and Views of the Filipino Community Worldwide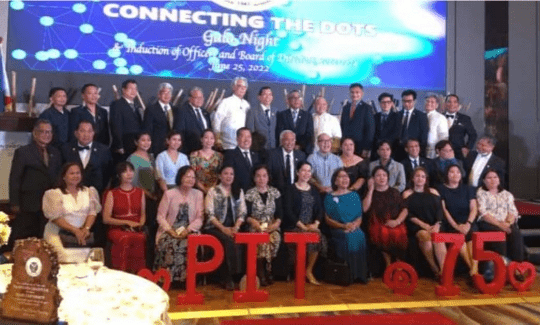 All Smiles: The Officers, Members, and Guests of the Phi Iota Tau Honour Society
Faithful to its established tradition of preserving and propagating the ideals of honour, excellence, scholarship, leadership, service, and fellowship, the Phi Iota Tau Honour Society(PITHS in the Philippines, held its Diamond Anniversary Gala on June 25, 2022. The event, with its theme "Connecting the Dots", was conducted at the Monet Ballroom of Novotel Manila-Araneta Centre in Cubao, Quezon City, Metro Manila. PITHS, since 1947, is distinctively recognized as the exclusive organization of scholars, student leaders & campus writers at FEATI University, Manila, Philippines.)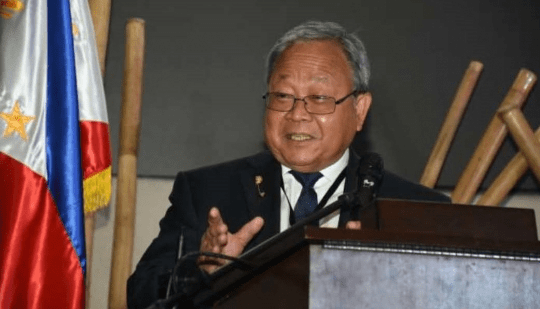 Bro. Alfredo S. Loyola, PITHS Interim Board Vice-Chair, gave his Welcome Address.
The dedicated evening programme highlighted key proud presentations, entertaining engagements, and memorable moments. Bro. Alfred S.Loyola- B68, warmly welcomed the guests, friends, and members of the organization after the opening prayer led by Bro. Victor F. Lumbao-B70 and the singing of the national anthem. The evening co-emcees, Bro. Jonathan F. Del Rosario-B87 and Sis. Ma. Victoria Rodolfo Tubo-B87 admirably coordinated the flow of the program. The duo aptly acknowledged the Tauans and Tauanettes and guests in attendance amongst which were Ms. Jemina "Ging" Segovia, FEATI U.Senior High School Head, and Ms. Melanie Florentino, Student Affairs Officer.
A glance at the soon-be-published P.I.T. commemorative tome was presented by the Diamond Book Writing Committee. The Diamond Book teaser video was a preview of the book's history-focused contents and "then & now" pictorials: "How PIT was founded" and "Who are the Tauans?"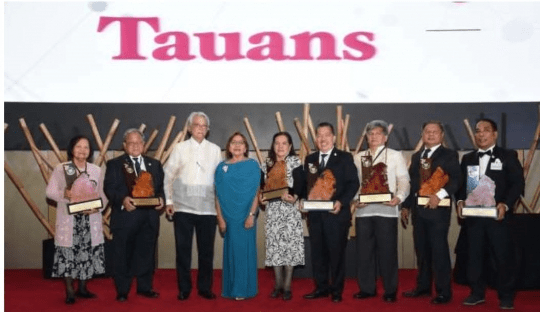 The 7 PITHS Awardees posed with Mr. Francisco A. Segovia & Sis. Malou Calzado.
One of the main highlights of the event was the presentation of trophies recognizing the "2022 Outstanding Members of the Society". Sis Marilou S. Calzado-B70, Chairman of the Anniversary Awards Committee, introduced the recipients, namely Dr. Henry N. Adorna(Academe), Francisco G. Balagtas(Leadership), Pio J. Benavidez(posthumous-Public Service), Gliceria Serrano-Burke(Service to Organization), Ruben M.Cortez(Entrepreneurship), Alfredo S. Loyola(Community Service), and Gilbert B. Magbutay( Engineering).
The 7 awardees were selected through a nomination and selection process of meeting established criteria referencing their respective fields of focused expertise, impactful achievements, and career & family endeavours. Moreover, the first two "Tauan Life Achievement Awards" were presented posthumously to Bro. Ceferino "Peng" Follosco-B50 and Brod Ernesto Supetran-B53. A special "Award of Appreciation" to FEATI University was received by Mr. Francisco A. Segovia, FEATI U. Board Vice-Chairman and CEO.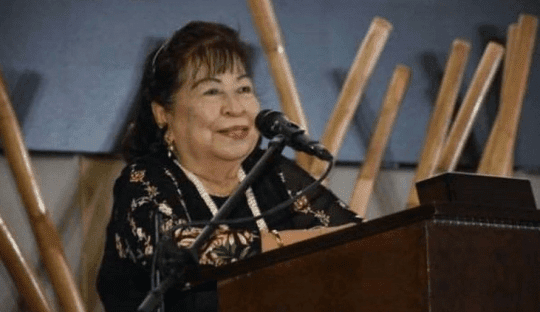 Dr. Gloria Mateo-Alberto, FEATI U. Board Chairman & EVP, gave her Keynote Speech.
During the gathering, well-received keynote and special addresses were delivered. Dr. Gloria Mateo-Alberto, Chairman of the Board & Executive Vice-President of FEATI University was introduced by Bro. Henry N. Adorna. Dr. G.M. Alberto stressed the "need for FEATI Alumni especially those with remarkable achievements like the Tauans to keep in close contact with the university and share their knowledge and experiences with university students."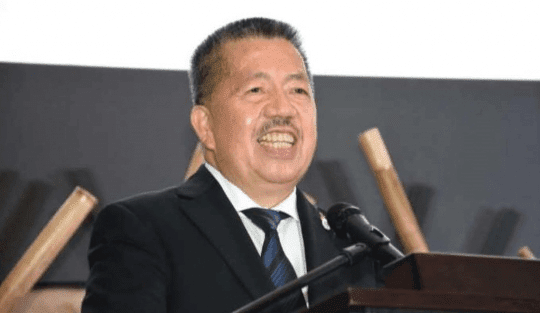 Bro. Francisco G. Balagtas, 75th ASC Chairman, delivered his final "SOSA".
Bro. Francisco G. Balagtas-B70, Chairman of the 75th Anniversary Steering Committee, speaking in Filipino, eloquently underscored the "special relationship between FEATI University and Phi Iota Tau and the wealth of knowledge, expertise, and experience the university can tap from Tauans all over the world."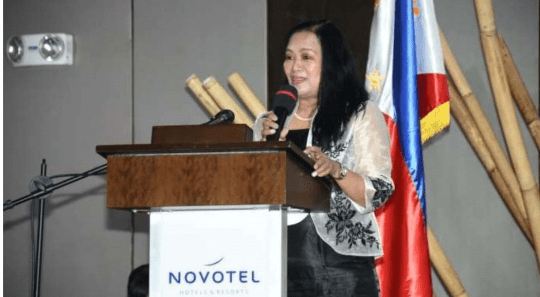 Sis. Ma. Editha A. Grande, PITHS Interim Board Chair, expressed her Special Address.
Sis. Ma. Editha A. Grande-B81, Chairman of the PITHS Interim Board, also stressed the "special bonds between Tauans and FEATI University." Being a former FEATI U. student and instructor, she pointed out that "she may have gone somewhere to teach but her affinity with FEATI University remains very strong."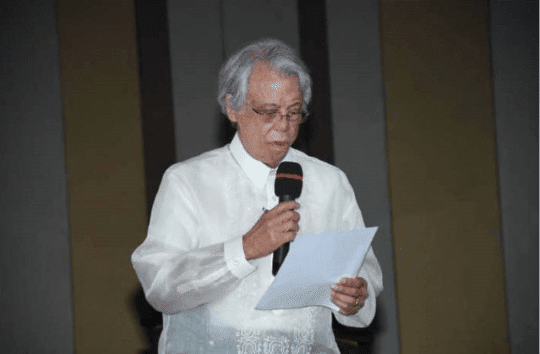 FEATI U. Vice Chairman & CEO Francisco A. Segovia presented his Special Message.
Mr. Francisco A. Segovia, who also gave a special message, formally inducted the officers & members of the 2022-2024 PITHS Interim Board of Directors. Those who pledged to serve in an interim capacity were Ma. Editha A. Grande( Chair), Alfred S. Loyola( Vice Chair), Rhoderick Alzaga, Ching Burke, Mary Grace Cruz, Erwin Francisco, Ed Karganilla, Andy Tan Lo, Vic Lumbao, Valerie Joy Magbiro, Gilbert Magbutay, Mirasol Paredes, Lorelei Pasana, Peter Siglos and Rhondell Villavicencio. Special entertainment numbers were beautifully performed by Bro. Henry C. Lopez, Jr., Ms. Elaine Hazel Grande, and the FUHS Resident Members.

Mr. Francisco A. Segovia inducted the PITHS Interim Board Members 2022-2024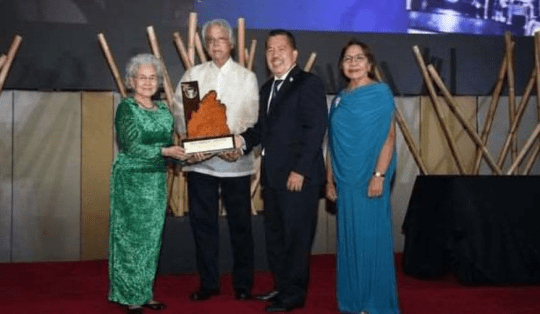 Dolly Supetran received the Posthumous Award to Bro. Ernesto C. Supetran-B53.
Rounding up the 5- hour event included fervent prayers and thoughts for the departed & sick members, recitation of the Tauan Creed, and the singing of the Society's Hymn as well as the favourite sentimental ditty, "Let Me Call you Sweetheart". PIT emblem-emblazoned pins and t-shirts were distributed to gleeful attendees. Sis. Ma. Editha A. Grande, B81, and Sis. Valerie Joy De Vera -Magbiro- jointly served as technical directors.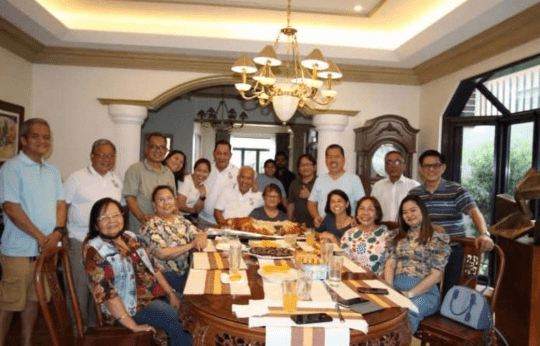 Post- Tauan Anniversary Special Salosalo at the Mansion of Kiko & Bebot Balagtas.
The successful gathering is greatly attributed to the splendid leadership and pandemic-period planning & coordination of the P.I.T. Anniversary Steering Committee(ASC) comprised of PITHS Brothers Francis Balagtas, Fred Abejero, Henry Adorna, Ben Cortez, Jon Del Rosario, Jack Galvez, Rey Gambe, Fred Loyola, Vic Lumbao, Gilbert Magbutay, Brad Santiago & Fred Villarin, and Sisters Elen Bondoc, Ching Burke, Malou Calzado, Edith Grande, & Lene Guiritan. Fostering friendship, before and after activities were undertaken with a 3-day "bonding trip" to Northern Luzon, feted by Bro. Ruben M.Cortez-B69, and the salosalo delights hosted by Bro. Kiko & Bebot Balagtas. Indeed, the homecoming party was an evening showcase of joyful reception, significant recognition, respectful reconnection, and meaningful renewal of valued friendship, collegial sharing, and lifetime memories. ( Tony A. San Juan, OCT.)
×
×