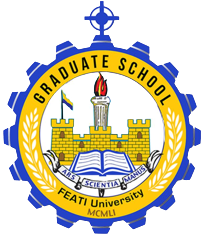 GRADUATE SCHOOL
---
WHY CHOOSE FEATI.Graduate School?
Since the 50s and up to the present, FEATIU Graduate School has honed successful professionals and has continuously improved its programs and approaches to produce decision-makers who are equipped with the latest tools and managerial skills.
At present, its curriculum includes special topic seminars from industry experts bringing in new technologies and sharing their experiences about the rapidly changing and dynamic management environments.
The new FEATI Graduate School will also develop and soon offer graduate programs in aviation-related areas such as in aeronautical engineering and aircraft maintenance technology to address the need for higher learning ideas and skills for these disciplines.
All these moves fortify the thrust of the Graduate School of FEATIU to make its curriculum relevant and industry sensitive.
Vision
FEATI University Graduate School leads in the adoption and implementation of comprehensive research and application of complex ideas and innovations in the areas of Engineering, Technology, and Management to produce responsible, skilled, and competent professionals and leaders with utmost integrity for the benefit of humankind and the world.
Mission
FEATI Graduate School is committed to be always dynamic and responsive to the demands of industries by honing professionals and prepare them for top management positions. This is achieved by having experienced mentors who are practicing professionals in the academe and industry.
×