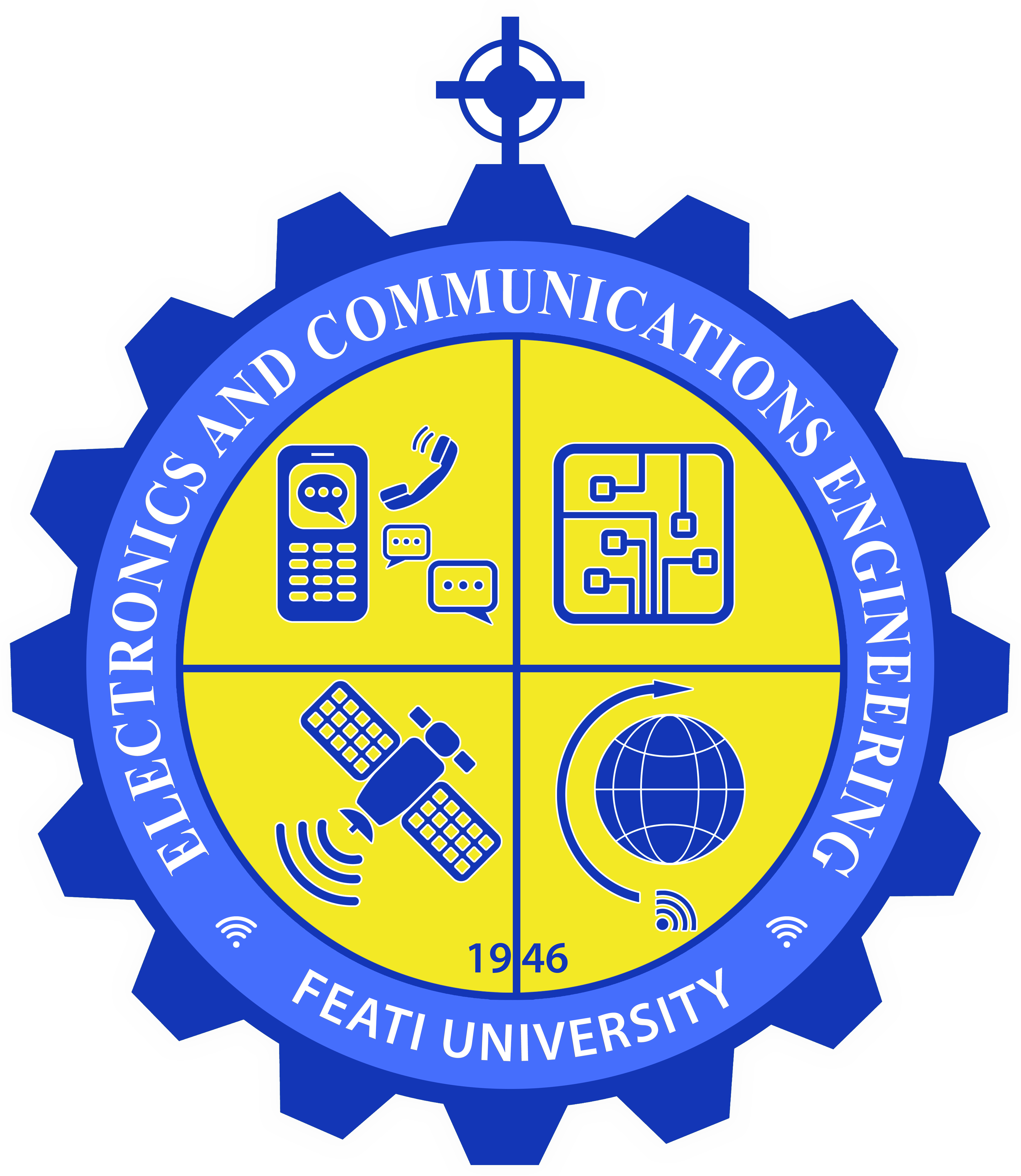 ELECTRONICS ENGINEERING
OVERVIEW
---
FEATI BS in Electronics Engineering, hot-wired for success!
The 4-year Bachelor of Science in Electronics Engineering Program of FEATI University is designed to provide the tools necessary to analyze and design electronics equipment, computer and communications systems.
The Electronics and SMART Lab are being used by the students to perform, assess and simulate experiments in communications and in digital electronics.
Robotics technology and locomotive systems are included in its elective courses. The Department's strong partnership with telecommunications and television companies ensures that our graduates are well-versed in these fields and ready for employment by major companies upon graduation.
The Program itself is rich in design courses and capstone projects with enhancement in job training activities from our industry partners and technopreneurship so that the graduates will be proficient in marketing and management skills.
The Great FEATI Experience
Why Enroll Electronics Engineering at FEATI University?
FEATI University is a values-centered educational institution that brings out the absolute best academic success in every student especially in the field of Electronics Engineering.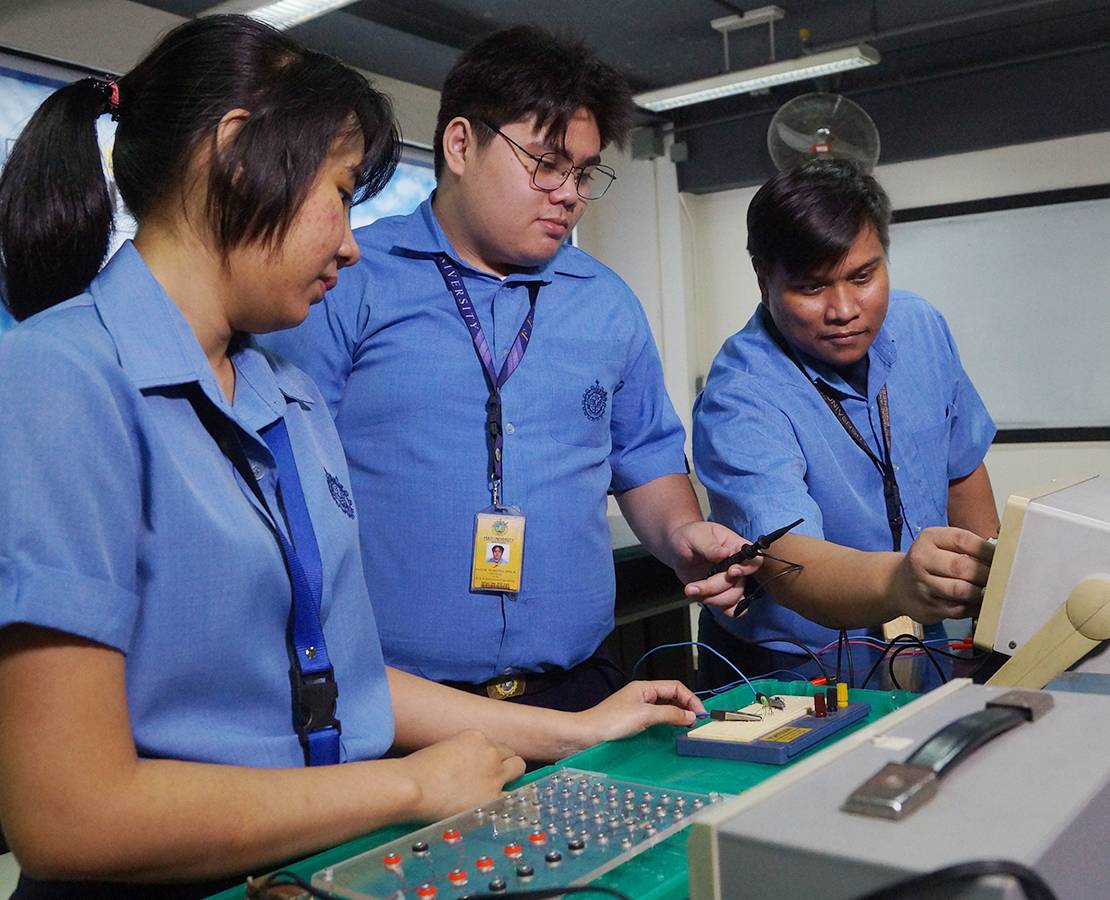 Our commitment is to encourage every student to achieve the highest academic standards in all that they do. The Electronics Engineering Program ensures that students are challenged to learn and become purposeful, life-long learners using updated technical references, SMART Computer Laboratory and highly trained and professional educators.
The students are taught the importance of practice, perseverance and determination to succeed in a safe and supportive environment. The spirit of camaraderie, thirst for technical knowledge and the culture of excellence are how the students describe the atmosphere inside the University campus. On leaving the University, Electronics Engineering graduates emerge confident and well-rounded individuals who are well-prepared for the next stage of their education or career.  Return of investment is high because the graduates are immediately employed by the Department's industry partners and linkages. There is also a wide range of career options in the local and international level.
The Great FEATI Advantage
The faculty of the Electronics Engineering Department is composed of highly competent and experienced educators/mentors that possess dynamic and progressive approaches to learning, mixing theories with practical application so that students are prepared to succeed in their careers.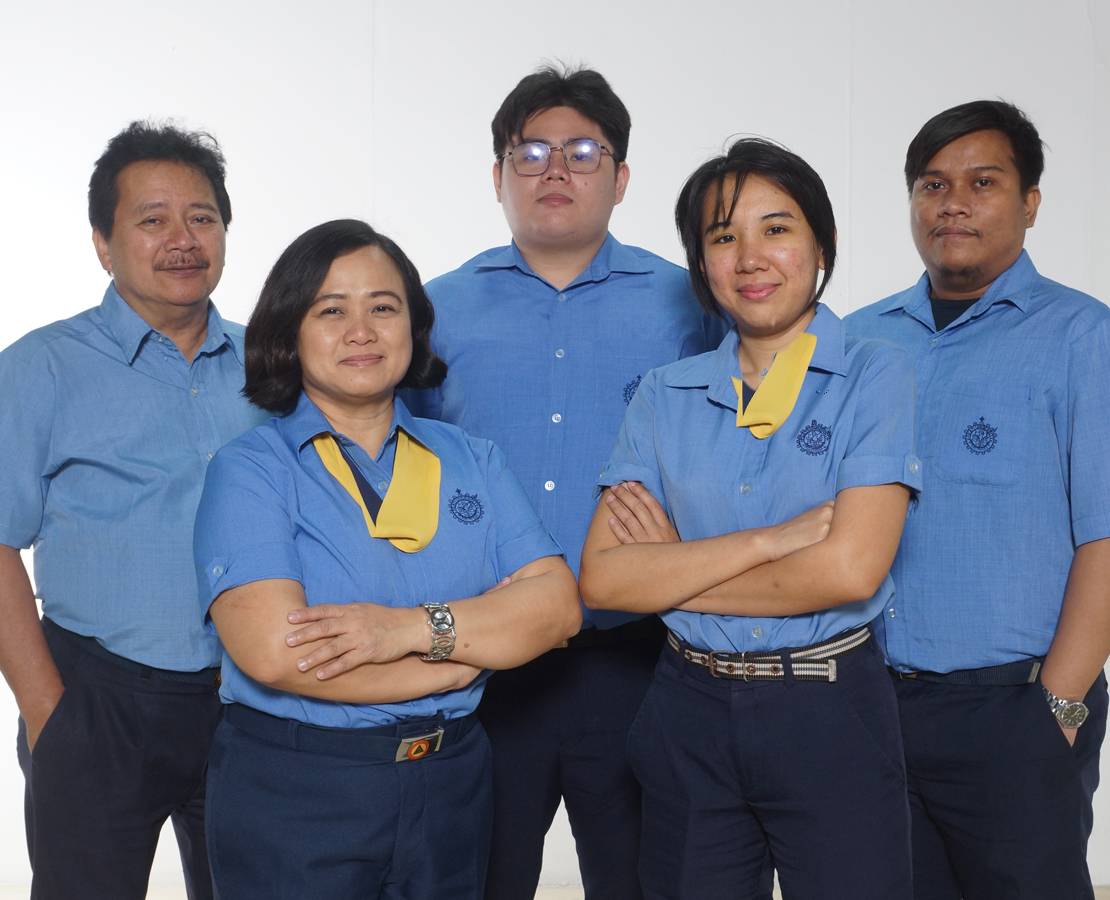 The FEATI Department of Electronics Engineering, with the assistance of its faculty members and staff, builds and empowers students by bringing together alumni and upperclassmen to collaborate and participate in mentoring activities like seminar-workshops, symposia, and convocations. This is one way by which the Department promotes continuous learning not just by providing a conducive learning environment for research and development to its students. Students are also encouraged to engage in research projects that can be applied to everyday life.
As a result, students are able to explore their capabilities and even surpass expectations.  Among the research projects of Electronics Engineering students are the following:
iSENSE 1- electronic cane for blind persons
iSENSE 2- enhanced electronic cane for blind persons
2221 BIKE – self-charging electronic bike
MOBO G – life-detecting and searching robot for use in disasters
Room Access Identification Card – RFID-based attendance checker and tracker
At present, the Department of Electronics Engineering is working for accreditation by prestigious organizations and institutions to seal its position as a center of excellence in the fields of Electronics Engineering and ICT Development.
The Great FEATI Partnership
The FEATI Department of Electronics Engineering has, through the years, developed strong linkages and partnerships with industry stakeholders that provide on-the-job trainings and employment opportunities for the students and graduates. The partners, which are leaders in the industry, are as follows:

The Great FEATI Reward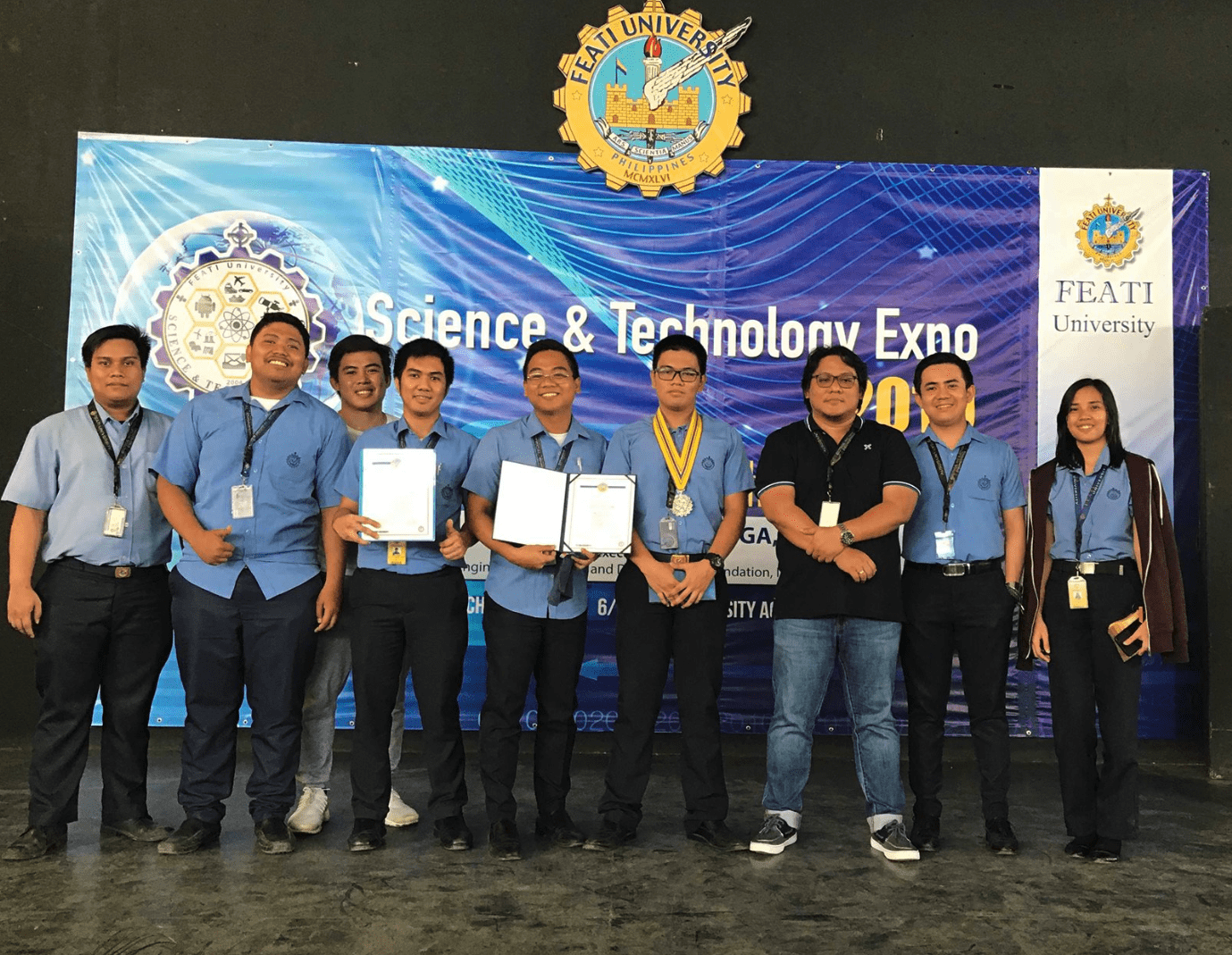 Career opportunities in the field of Electronics Engineering in this age of digital computing and rapid development in the Information and Communications Technology (ICT) have virtually become limitless. Because of this, graduates of BS Electronics Engineering from FEATI University have the following to look forward to as their careers: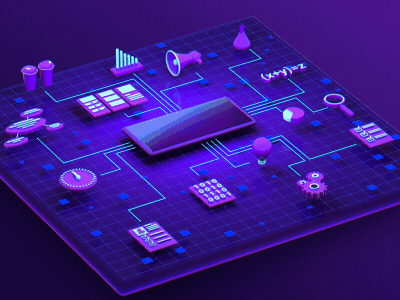 Sales engineers
Manufacturing and quality control engineers in semi-conductor company
Biomedical engineers in major hospitals
Instrumentation engineers for calibration
Test engineers for manufacturing companies
Robotics technicians
Locomotive engineers
The Great FEATI Legacy
A number of the Department's distinguished alumni have made their distinct mark in the industry and/or hold key positions in established companies, bringing with them the legacy of FEATI.  Among them are as follows:
A. Engr. Editha Grande
Officer, IECEP;
Former ECE Program Chair, FEU
B. Engr. Erwin Francisco
C. Engr. Genaro Villanueva
Former Chair, ECE Department
D. Engr. Ricardo Maliwat
Vision
---
The Electronics Engineering Department of FEATI University will be the leading institution in the field of Electronics Engineering education through excellence in student education, quality and productive research and unquantifiable professional services.
Mission
---
The Electronics Engineering Department will accomplish its vision by introducing modern teaching-learning strategy and methodology, providing quality and updated institutional materials, upgrading laboratory facilities and injecting industry and research based curriculum to meet the demand of local and international industries.
Railways Specialization
---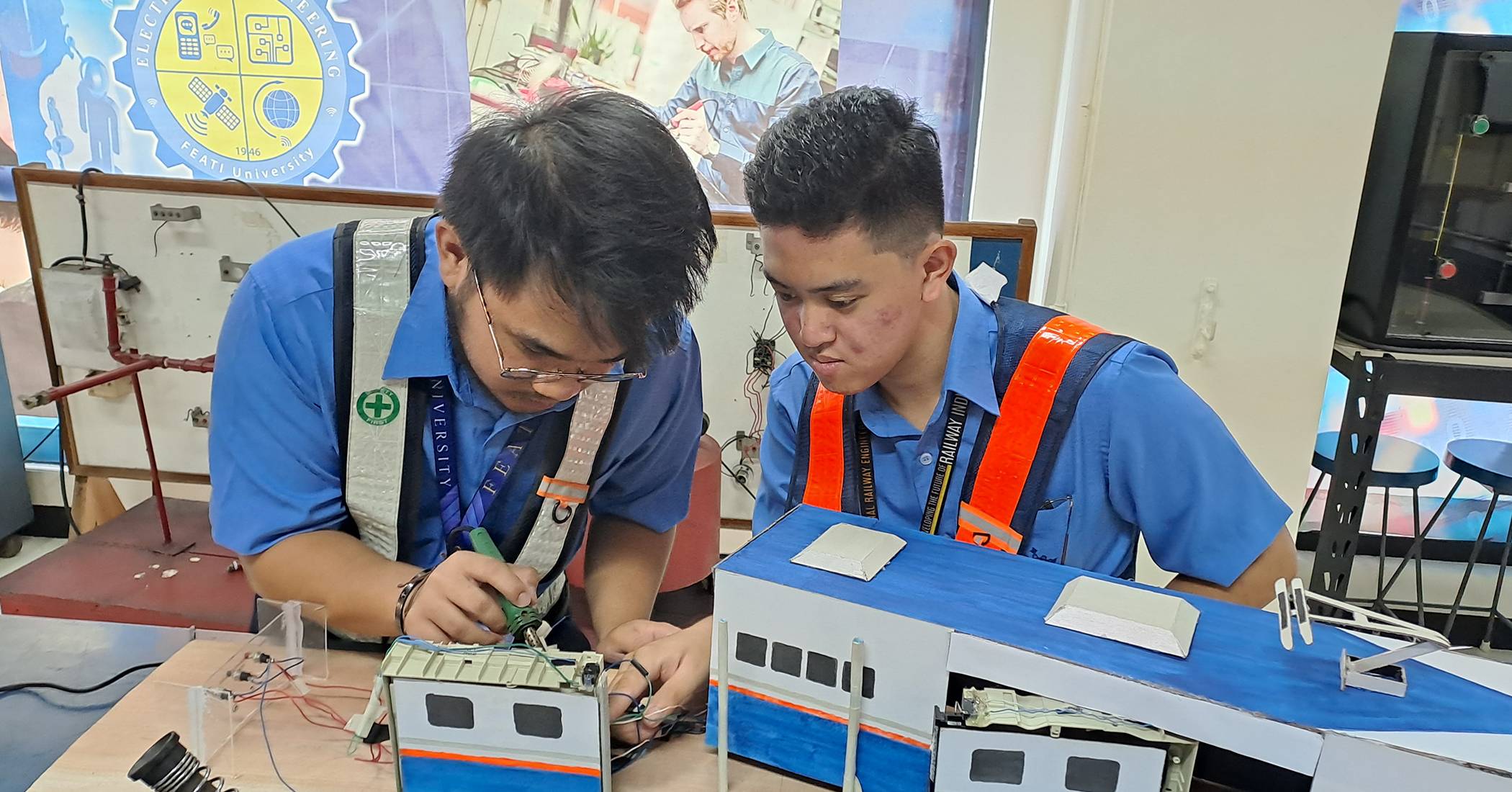 When developing knowledge of electrification, signaling & telecommunications in Railways, students get to work with experts in industry and learn cutting edge technology in this respect.
Students get to learn and explore in their on-the- job training (OJT) sessions communication-based train control (CBTC) systems enabling seamless operations in driver, driverless or completely unattended train operation modes;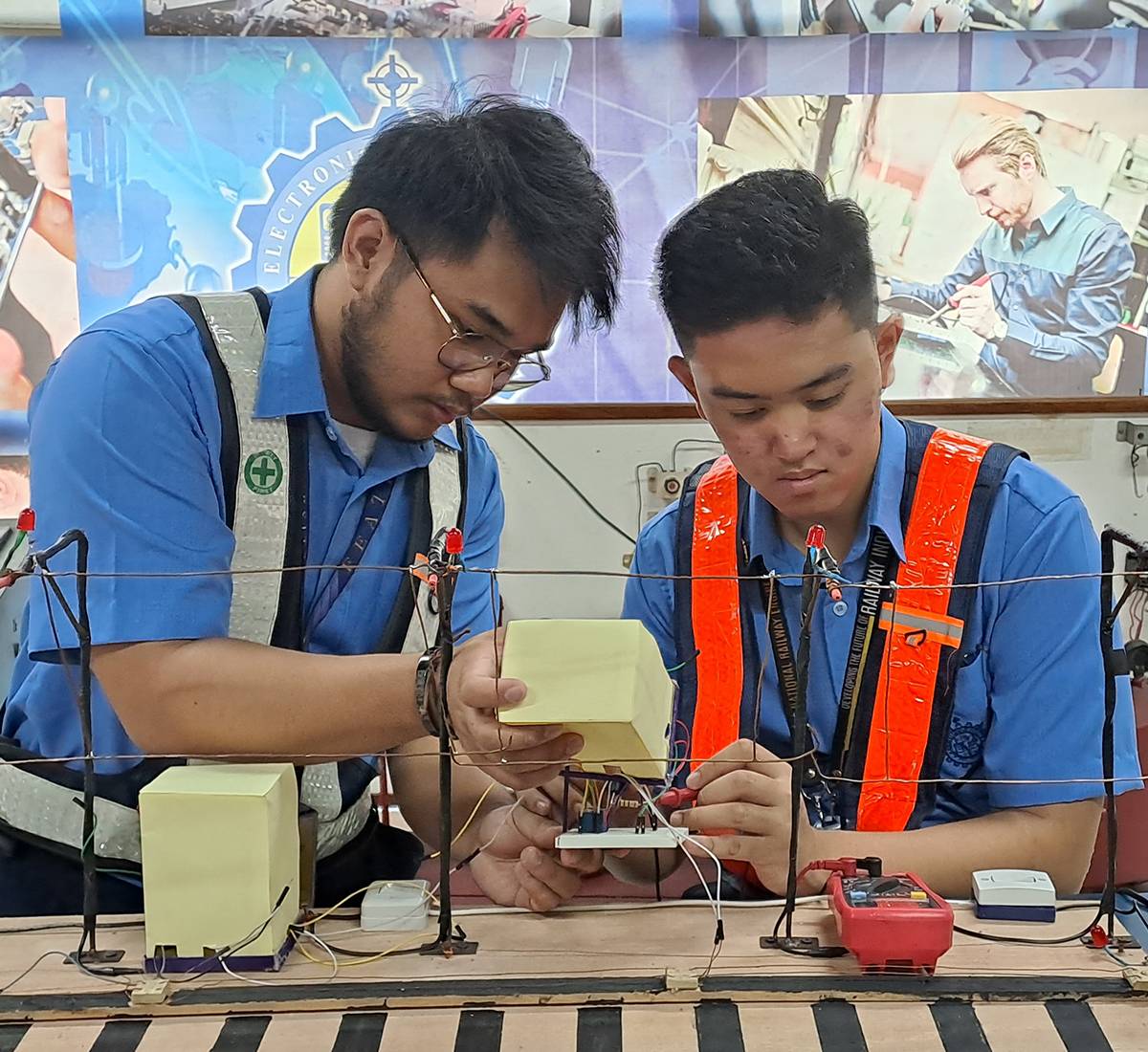 autonomous monitoring and control of rolling stock through automated systems that integrate human-machine interface and bi-directional radio communication interface; computer and relay-based interlocking solutions, automatic train protection and operation systems, diagnostics of rolling stocks, and speed control technologies as part of the automatic signaling systems in railways to help increase capacity, the safety and efficiency of railway assets.
Finding innovative ways to solve challenges of the railway industry on safety and faster travel time will be one of students' focus projects.
FACULTY PROFILE
---
Faculty
Academic Background & Teaching Experience

Engr. Virgilio A. Zacarias, Jr.

Licensed Electronics & Communication Engineer
Master of Information Technology

Engr. Erwin L. Francisco

Licensed Electronics & Communication Engineer
Master of Engineering - ECE
×
×